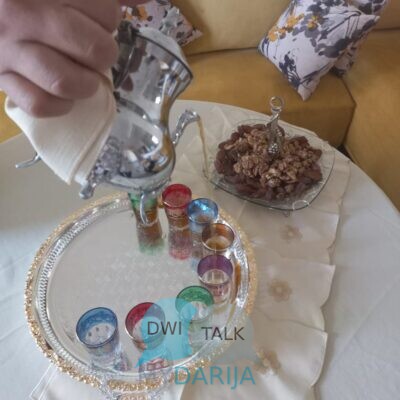 Moroccan Tea
Moroccan tea is the most popular drink in Morocco. It is consumed several times a day.
It is made of fresh mint leaves, green tea, sugar and water. 
Ingredients
1

tbsp

green tea

Few

leaves of mint

2

tbsp

sugar

4

cups

water 

(1 liter)
Instructions
Put loose green tea in a teapot. Add 1 cup of hot water to the teapot. Wait for 1-2 minutes. Dump that water out. Do not use it. Fill the teapot with 4 cups of clean water. Put it on the stove top until it starts boiling. Turn off the heat. Add sugar and mint leaves. Serve it by pouring the tea as shown in the picture. Then transfer the tea between 2 glasses several times so it will cool enough to be consumed.