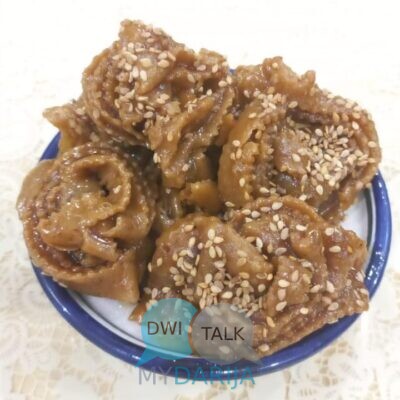 Moroccan shebakia (chebakia) for special holidays like Ramadan
Shebakia (chebakia) is a traditional Moroccan dessert. It is created by using strips of dough rolled into the shape of a rose. Deep-fried till golden, then drizzled with honey, and topped with sesame seeds. People in Morocco eat it during the holy month of Ramadan.
Ingredients
1

tbsp

yeast

1

tbsp

sugar

1

cup

butter

6

cups

flour

1/4

tbsp

salt

1

tbsp

cinnamon

1

egg

1

cup

warm water

1

tbsp

vinegar 

vegetable oil for frying

4

cups

honey

2/3

cup

sesame seeds

(100 grams)
Instructions
In a small bowl you mix the yeast with a little bit of warm water. 

In large bowl mix sugar and butter. 

Add flour, salt, cinnamon, egg, water, vinegar, and the yeast to the sugar mixture.

Stir continuously with a mixer or by hand, make sure that the dough is tender.

Cover it and leave it in a warm place for about 30 min. 

On a flat surface sprinkle some flour and put the dough on it.

Flatten it with a rolling pin until it becomes thin.

Cut it into medium sized squares.

Make 4 incisions inside each square with a knife. Then slide your finger inside each incision. Turn inside out. Pinch the opposite corners closed to create a flower shape.

Fry the chebakia in a hot pan with oil until it becomes golden brown.

Put it on a strainer to get of the oil.

Dip the shebakia in honey, then sprinkle sesame seeds on top.

Bon appetit!