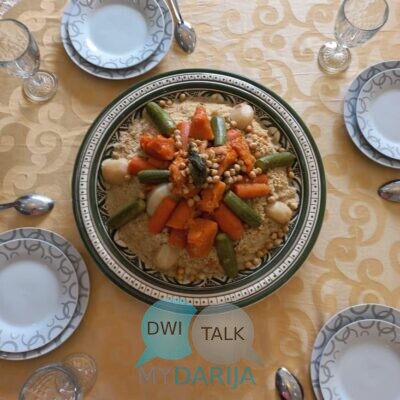 Moroccan Couscous
Couscous is a very famous dish in Morocco. It is served every Friday. It is also served in the evening of the 27th day of Ramadan.
Moroccan couscous made of couscous grain, vegetables, and meat. You can make it with beef, chicken or lamp.
Ingredients
2

lb

couscous 

2

tbsp

butter

6

cups

water

1/4

cup

olive or vegetable oil
Meat or chicken  broth seasoning: 
2.2

lb

beef OR lamb meat OR 1 large chicken 

4

peeled and chopped tomatoes 

2

chopped onions

2

tbsp

salt

1

tbsp

pepper

1

tbsp

turmeric

1

tbsp

ginger

1

handful cilantro and parsley tied in a bouquet

1/4

cup olive oil or vegetable oil

2

tbsp

smen (it's a Moroccan preserved butter that is optional)
Ingredients for the vegetables: 
4

small zucchini - cut the ends off 

2

small onions cut in half

5 to 6

carrots peeled and cut in half 

3 or 4

turnips peeled and cut in half

1

small head of cabbage 

1/2

cup of chickpeas, soaked over night before use
Instructions
Let's start making the broth:
In the bottom of a couscous pot, also called a Moroccan steamer, brown the meat with olive oil, tomatoes, onions, and spices over medium heat.

Let it cook uncovered for about 10 to 15 min. until the sauce becomes thick. Then add the chickpeas, parsley, cilantro, and about 6 cups (or more depending on the size of the steamer) of water. Let it boil and cover it on medium heat for about 30 min. 
Now for the couscous 
1) First steaming

In a large bowl, mix 1/4 cup of oil into 2 lb's of couscous. Roll the couscous between your fingers for a minute to remove all the clumps.

Add 1 cup of water until it's all blended and there are no clumps.

Transfer the couscous to the top streamer basket. Then place on top of the couscous pot and steam for 15 to 20 minutes. 

2) Second steaming

Put the couscous back into your bowl let it cool down. Then add 1 cup of water and do the same thing as before. ( Roll the couscous between your fingers for a minute to remove all the clumps. )

Add a little salt, roll the couscous in your fingers for a minute or two until you make sure there are no clumps then put the couscous back into the steamer basket.

Add the onions, tomatoes, and cabbage to the bottom steamer pot.

Then put the couscous back into the top steamer pot. Put it back onto the couscous pot. Let it steam for 15 to 20 minutes.

3) Third Steaming

Take the steamed couscous out and put it into a bowl.

Then add the carrots to the bottom steamer pot and cover it. Let it cook for 15 minutes.

Meanwhile, add 2 or 3 cups of water to the couscous in the same manner as before, rubbing the granules between your fingers making sure there are no clumps. If it needs salt you can add a little.

Add the zucchini to the bottom pot with a little water. Taste it and add seasoning if needed.

Then place the couscous basket on the pot until you see steam rise from it. Leave it for 10 min.

4) Ready to serve

Now, in a bowl, you put the couscous and add a little butter to it. Then add about 1 cup of the broth to the couscous.

It is recommended to do it in a deep serving plate.

Create a shallow hole in the middle of the couscous. Take the meat out of the bottom pot and place it in the middle of the couscous.

Place the vegetables in a decorative fashion around the meat. Use a ladle to take broth from the bottom pot. Pour it over the couscous in a circular fashion.

Make sure you cover all of the couscous with broth.

Bon appetit